Creating an Enhancer
In addition to the enhancers that Aurea Campaign Manager includes, you can create your own enhancers using the Content Library.
You can create enhancers of a specific type, such as Unsubscribe or Email Referral. You can create any number of enhancerA commonly used form, such as a survey or unsubscribe request that you can add to your message. of the same type. You can also edit any enhancers you created.
Creating an Enhancer
On the navigation bar in EmailLabs, click Messages > Content Library.
On the navigation bar, click Enhancers.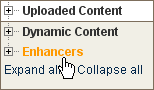 Click New Enhancer.  
In the Enhancer Name field, type the name for the enhancer.
Optionally, in the Folder Name drop-down list, select the folder in which you want to create the enhancer.
In Enhancer Type, select the enhancer type you want to create
Click Next.  
Follow instructions for creating the type of enhancer you selected: