Asset Library Overview
You can use the Asset Library to:
Store images and other types of files. You can add multiple assets to the Asset Library at a time.

Drag and drop images into messages. For more information about adding images to messages, see Adding images from the Asset Library.
Tag assets with keywords and find them quickly using the Library's Search feature and Keyword list.
NOTE
Assets that you previously stored using the Content Library are available in the Asset Library. The names of the Content Library folders are automatically converted to keywords.
The size limit for an asset in the Asset Library is 50 MB.
Each organization can store up to 500 MB of data.
For information on how to insert images in messages and landing pages, refer to Adding images and Editing a Landing Page.
Opening the Asset Library
On the navigation bar, click Content Management > Asset Library.
The Asset Library list is displayed as shown in the following illustration.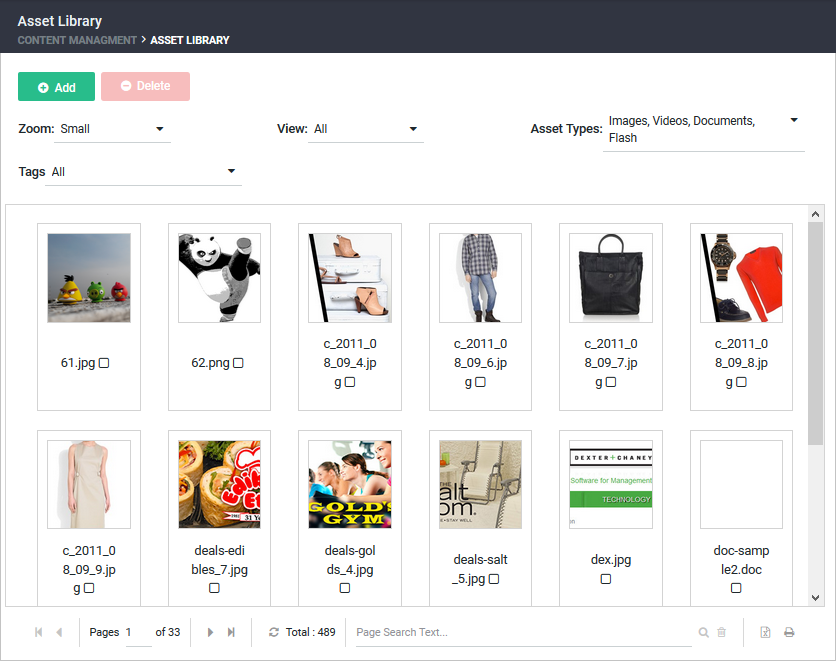 Component
Description
Add and Delete
Use these buttons to add and delete assets. For more information, see Adding and Deleting Assets to the Asset Library.
Zoom

Select a size to change the size of the thumbnails, such small, medium or large. Point at a thumbnail to see the following information about the asset:

Name and file type
Size
Last Modified Date
Tags, if any are assigned

NOTE

This field also provides an option to view images as a list with all the details. In the List mode, click on icon beside the desired image for a preview.

View
You can view all images or view only recently added images.
Asset Types
The types of assets currently displayed. To show a type of an asset, select it from the drop-down list.
Tags
All existing tags. For more information about tags, see Assigning Tags and Searching for Assets in the Asset Library.
Search
Search for an asset. For more information, see Assigning Tags and Searching for Assets in the Asset Library.