Steps before installing, upgrading, or repairing social sites
When installing, upgrading, or repairing Social Sites, the first steps are all the same, and are as follows:
Important:
Please ensure that Anti-Virus software is disabled during the installation of Social Sites.
Note:
When upgrading a Social Sites installation that already includes some modules, those modules must be upgraded at the same time as the Social Sites core.
You cannot upgrade the modules later, and the upgraded Social Sites core is incompatible with the older, non-upgraded modules.

Backing up SharePoint
All production deployments of Microsoft SharePoint should include a backup or other disaster recovery mechanism. When making changes to the SharePoint farm, such as installing new updates or software, it is imperative to have a mechanism that allows the farm to be reverted to a working state if something goes wrong.
This includes installing, updating, and uninstalling Windows Updates, service packs, cumulative updates, and Social Sites.
Before you install, update, or uninstall Social Sites on your production SharePoint farm, we strongly urge you to backup your farm so that it can be reverted in the case something does go wrong.
Microsoft has provided detailed documentation about various SharePoint backup methods on TechNet.

Validating setup folder
When you purchase Social Sites, NewsGator provides you with a Setup folder containing your installation files. It should have a file called Setup.exe in it. It should also contain a folder within it called "Solutions".
This folder must contain a WSP file, or set of WSP files, corresponding to every optional module you purchased for install, in addition to the WSP's for the core product. If these files do not already appear in the Solutions folder and are delivered to you separately, you have to put copies of them in the Solutions folder before launching Setup.
You'll most likely have the WSPs for each separate module in their own ZIP file. The installer requires all these WSPs to have the same major version, so make sure you get versions of the module ZIP files that match the version of the core product that you are installing.
The core WSP's are as follows:
Aurea Social 2010 core WSP's
NewsGator.Communities.wsp
NewsGator.Core.Application.wsp
NewsGator.Core.wsp
NewsGator.PVModule.wsp
NewsGator.SiteDefinitions.wsp
SharePoint.Ajax.Library.wsp
Aurea Social 2013 core WSP's
All Aurea Social 2010 core WSP's in the list above, plus:
NewsGator.Application15.wsp
NewsGator.Core.Fifteen.wsp
NewsGator.SiteDefinitions.15.wsp
Below is the list of additional WSP files you need if you also have an optional module or solution. If you have purchased the following module then ensure these file are in the "Solutions" folder before install:
News Stream module
Files in "solution" folder: <![CDATA[ ]]>
NewsGator.NewsManager.wspNewsGator.NewsManager.Application.wsp
Idea Stream module
Files in "solution" folder: <![CDATA[ ]]>
NewsGator.Social.IdeaModule.Sites.wsp NewsGator.Social.IdeaModule.wsp
NewsGator.IdeaModule.Fifteen.wsp
Spotlight module
Files in "solution" folder:
NewsGator.Social.Spotlight.wspNewsGator.Social.Spotlight.Application.wsp
Video Stream module
Files in "solution" folder:
NewsGator.CA.CommonAssemblies.App.wsp NewsGator.CA.CommonAssemblies.UI.wsp
NewsGator.ScreenCast.ClickOnceDeployment.wsp (optional)
NewsGator.VideoStream.App.wsp NewsGator.VideoStream.UI.wsp NewsGator.CA.CommonAssemblies.App.SP2013.wsp
NewsGator.VideoStream.UI.SP2013.wsp
NewsGator.VideoStream.App.SP2013.wsp
Video Stream module with Kontiki support
Files in "solution" folder:
NewsGator.VideoStream.KontikiIntegration.wsp
(additionally, the Video Stream module WSPs must be included)
Enrich module (without video scenarios)
Files in "solution" folder:
NewsGator.CA.CommonAssemblies.App.wspNewsGator.CA.CommonAssemblies.UI.wspNewsGator.LearningPoint.
App.wspNewsGator.LearningPoint.UI.wsp
NewsGator.LearningPoint.App.SP2013.wsp
NewsGator.LearningPoint.UI.SP2013.wsp
Enrich module (with video scenarios)
Files in "solution" folder:
NewsGator.Learning.VideoScenarios.App.wsp NewsGator.Learning.VideoScenarios.UI.wsp NewsGator.Learning.VideoScenarios.App.SP2013.wsp
NewsGator.Learning.VideoScenarios.UI.SP2013.wsp
(additionally, the Video Stream module WSPs and Enrich module WSPs must be included)
Innovation Solution
Files in "solution" folder:
NewsGator.CA.CommonAssemblies.App.wsp NewsGator.CA.CommonAssemblies.UI.wsp
NewsGator.CA.CommonAssemblies.App.2013.wsp NewsGator.CA.CommonAssemblies.2013.wsp
Newsgator.Innovation.App.wsp Newsgator.Innovation.SiteDefinitions.wsp Newsgator.Innovation.UI.wsp
(additionally, the Idea Stream module WSPs must be included)
iComm solution
Files in "solution" folder:
Newsgator.corpcomm.application.wsp Newsgator.corpcomm.sitedefinitions.wsp Newsgator.corpcomm.wsp
Be sure to check permissions on the install files, as downloaded or unzipped files sometimes have restricted permissions which cause a failed install.
Important
If you are installing/upgrading both the Enrich and Video Stream Modules please ensure that the WSPs are from the same version.

Opening the Launcher
Log in to your Applications server (usually the same as your Central Administration server, but not necessarily the same) using an account that meets the pre-requisites listed in part B of the section Account/Permissions Prerequisites, and launch Launcher.exe from the Aurea Social Setup folder provided to you by NewsGator Support.
If User Account Control is active on this server, you'll need to launch this by right-clicking on Launcher.exe and choosing "Run As Administrator" from the drop-down menu. This displays the Aurea Social Launcher.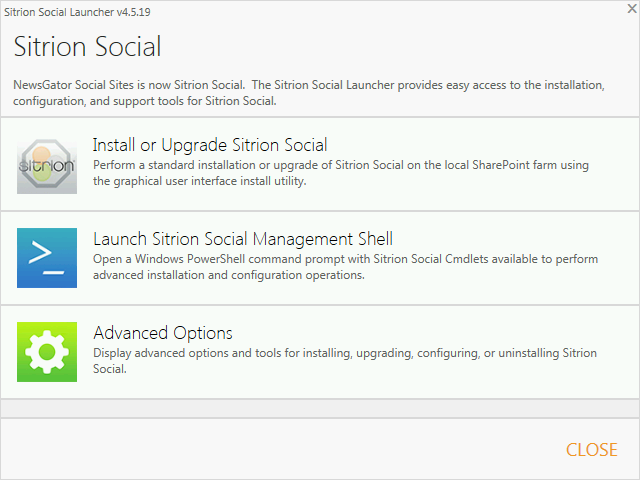 Checking Prerequisites in Advance of Installation, Repair, or Upgrade
Atop the Install section of the launcher, the Check Prerequisites option allows you to find out if there are any prerequisites that still need to be met, without having to launch the install first, nor agree to the License Agreement first.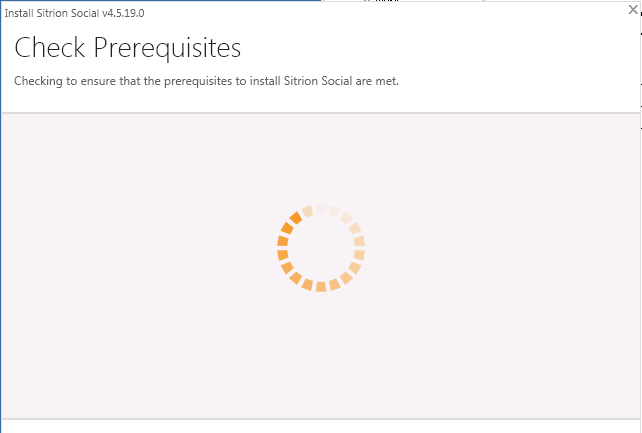 Upon clicking Check Prerequisites, you'll see a "working" screen like the one above while various prerequisites are checked. When complete, a summary of the results is displayed, as below.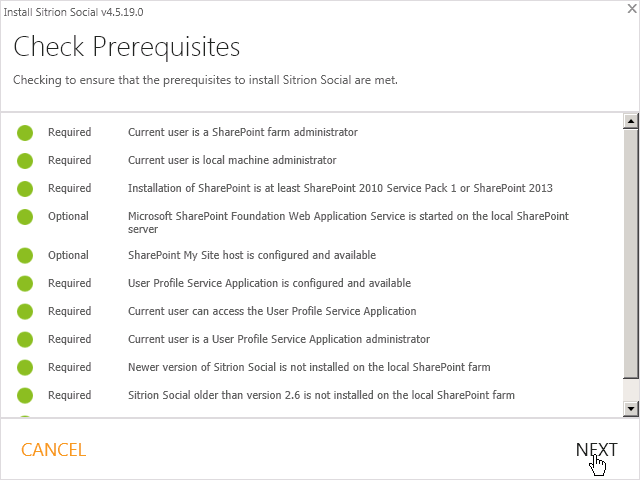 If you fail any of the "Current User is Farm Administrator", "Current User has access to User Profile Service Application", or "Current User is User Profile Service Application Administrator" prerequisites, follow the directions in Setting up your account with the SharePoint permissions that are needed to install Aurea Social to grant the proper rights to your account, or login with a different account that has the rights described in part B of the Account/permissions prerequisites section.
If you fail the "Installation of SharePoint is at least SharePoint 2010 Service Pack 1 or SharePoint 2013" prerequisite, you probably have SharePoint 2010 without Service Pack 1. Install.
If you fail the "User Profile Service Application is Configured and Available"prerequisite, refer to the Technet article "Create, edit, or delete a User Profile service application (SharePoint Server 2010)" for SharePoint 2010 installations, or to "Create, edit, or delete User Profile service applications in SharePoint Server 2013" for SharePoint 2013 installations.
If you'd like to see more detail regarding what was done during the prerequisite check, you can refer to the log file that is automatically generated in the install folder, title like "NewsGatorLog_2013_03_17_18_35_38", where the trailing string of numbers indicates the year, month, day, and time when the prerequisite check was started.

Pre-4.5 to 4.5-and-later upgrades only: removals and deactivations for Social Search BDC Model
As of the 4.5 release, the Social Search BDC Model to integrate with SharePoint search has been changed. Consequently, after upgrading from any version prior to 4.5 to 4.5 or later, the search integration needs to be setup again.
To make this easier to do, prior to upgrading to 4.5 or later, it is recommended to remove the existing content source in the Search Service Application for the Aurea Social data and deactivate the NewsGator Social Search BDC Model farm features.

Upgrades only: optional reboot to unlock files
If you have solutions that are failing to deploy during upgrades, rebooting the server to which solutions are deployed unlocks any solution files that are locked and thus preventing deployment.

Turn off antivirus software
You should turn off antivirus software on the server on which you are running Setup, and leave it off for the duration of install. Turn it back on when install is complete.