Spheres Functionality
Configuring a Sphere
Sphere membership and other settings for a sphere can only be edited by the owner of the sphere. A sphere may have only one owner at any given time. Initially the owner is the person who created the Sphere.
If the owner has the Sphere Administration permission in the NewsGator Social Platform service, that owner can give up ownership of the sphere by transferring that ownership to somebody else.

Transferring Sphere Ownership
Spheres owners that have the Sphere Administration permission in the NewsGator Social Platform service can transfer ownership of their spheres to someone else by following the instructions in Administration of Sphere Ownership, far below.

Setting Sphere Followership Based on a SharePoint Audience
This capability is almost exactly the same as described above for communities, however both public and private spheres can have followers set via SharePoint Audience. The ability to do this is still controlled by the "Manage Audiences" permission on the NewsGator Social Platform Service.
The creation flow for spheres has been changed slightly. The first step is to choose a public or a private sphere.
If a public sphere is chosen, the options for adding followers are notifying people via email or using an audience. If the Audience option is chosen, the same choices for selecting or creating an audience as seen in a community are displayed.
Note:
In the 5.1 release, there is now an option for the person who is creating a sphere to automatically be set to following the sphere when it is created.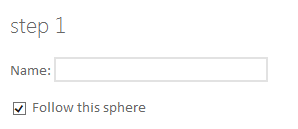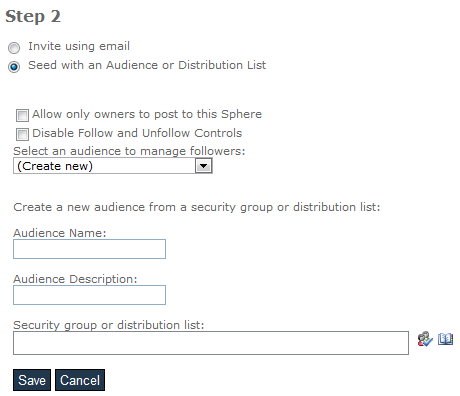 Step 2
Note:
The other community options (read only and disable follow/unfollow) are also shown here. These choices work the same as described above for communities.
They can be adjusted after the sphere is created from the manage options for the sphere. In all other respects, the process for selecting or creating an audience works the same as described above.
If a private sphere is selected in step one, the flow is identical except the alternate option to using an audience is to select members individually (the same mechanism allowed when spheres were originally released in version 2.1).

The management tab for spheres reflects these capabilities. Clicking on a private sphere that uses a distribution list displays these options.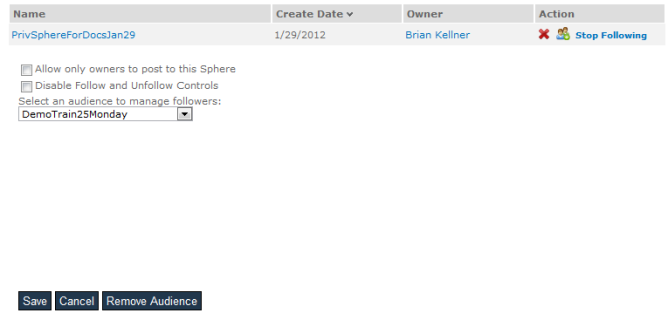 Similarly, a public sphere using a distribution list shows the same options.
Note:
Public communities that do not use distribution lists for membership do not have the options to be set to "read only" or to not show the follow/unfollow links.