Aurea Social

2013 Vs 2010 Activity Stream

How the Aurea Social 2013 Activity Stream differs from the Aurea Social 2010 Activity Stream?

This section details differences in functionality for Aurea Social on SharePoint 2013. While the majority of items in the Aurea Social activity stream work in exactly the same way, changes in SharePoint 2013 mean that users may see some activity stream items that come only from SharePoint.

In general, the list of events that could come from SharePoint 2013 is shown in the Newsfeed Settings portion of the profile edit page.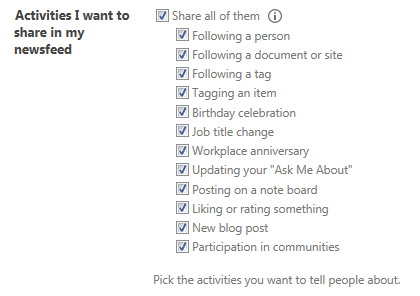 When Aurea Social is installed, blog post events and participation in communities come from Aurea Social.
When viewing the activity stream if SharePoint events are available, they are added into the default view.

SharePoint events have a Source: SharePoint label at the bottom and do not include controls that are available on other Aurea Social activities (such as like or comment).
Clicking the Source: SharePoint link opens a SharePoint display page. In almost all cases, SharePoint also does not have any additional interactions available on these items. But if there are additional options available, users can take those actions on this page.
Because these events are generated directly in SharePoint, Aurea Social does not have the ability to screen them out for users. Correspondingly, de-selecting these event types (e.g. birthday) in the Aurea Social stream settings dialog does not prevent them from displaying in the activity stream.

The SharePoint checkboxes listed on the prior page control the creation of these events but do not filter them for displaying for the user.
Similarly, SharePoint contains a set of notification options in the Newsfeed settings page.

Only the first three of these notification options actually apply because Aurea Social takes care of the other notifications and provides additional granularity of notification controls in its notifications options accessed via the Settings link.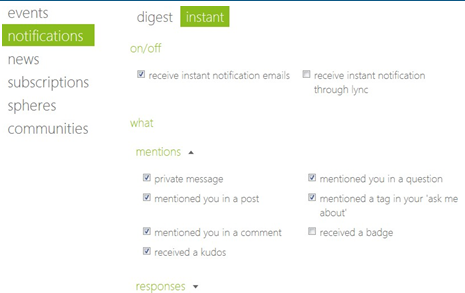 With Aurea Social installed, all microblogs should be stored in the Aurea Social database.
This allows them to have all the flexibility of being targeted at any number of communities, supporting private message microblogs, etc. SharePoint 2013 includes some default search views designed to show microblogs stored in lists.
On the My Site, it's best to scope the search control to not include conversations.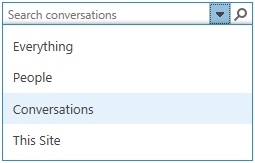 On the search center results page, the Newsfeed post filter typically does not show any results.

The personal blog on the Newsfeed site gets Aurea Social event receivers activated by default.
This ensures the best display of blog events and synchronization of comments with the stream. If the Aurea Social event creation is turned off, SharePoint may still generate activity stream events through its own event receivers.
Aurea Social adds a message at the top of new blog post screen to indicate if Aurea Social events are being generated.
Because the Aurea Social activity stream has additional types of events and interactions that are not supported in the SharePoint activity stream, the Aurea Social mobile, desktop and Outlook Plugin clients are required to interact with the stream.
Accessing SharePoint with the Microsoft mobile clients allows reading and interacting with built-in microblogging, but does not allow accessing the full Aurea Social stream.
Because the native SharePoint events such as profile updates do not create events which are actually stored in the Aurea Social database, they do not show up in reports or be effective for badge rules in Spotlight.
Spotlight badge rules that count total colleagues, followers and community following are still effective.