About Suppression Lists
Suppression lists give you the ability to specify which email addresses should not receive a specific message.
You can select a suppression list when sending a message, and the message will not be sent to the email addresses on those suppression lists.
You can use any suppression list in any message, and can select several suppression lists for each message. If you have the Edit Global Email Settings permission, you can also create, edit, and delete suppression lists.
You can view and edit suppression lists on the Lists page.
Viewing Suppression Lists
On the ListsTo open the Lists page, on the Navigation bar, click Email Marketing then Lists. page, select Suppression List from the List Type drop-down list.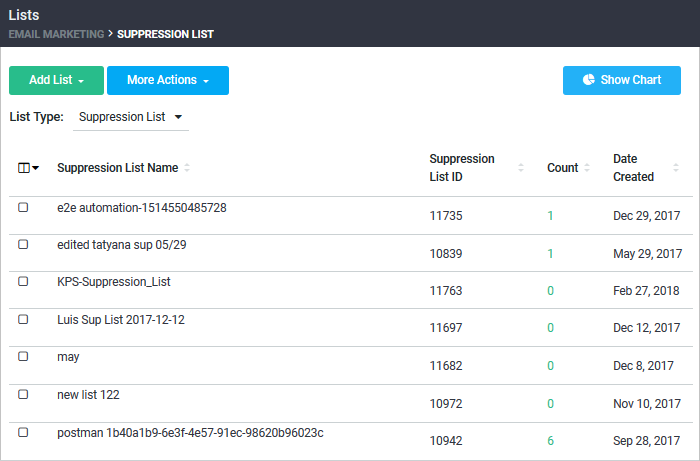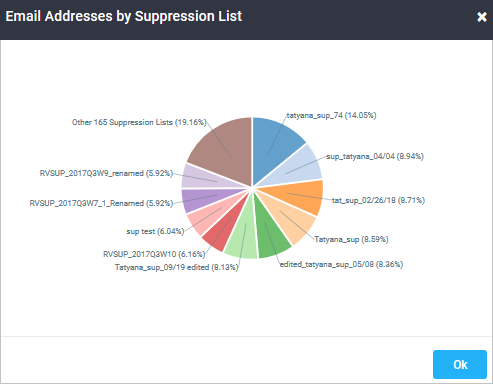 Element
Description
Show Chart
Click on this button to view a graphical representation of the five largest suppression lists. The remaining suppression lists are combined in the Other slice. The legend on the right shows which suppression list each slice represents and the number of email addresses in each list.
Add List
Click this button to create a suppression list or mailing list. For more information about creating suppression lists, see Creating, Editing, and Deleting Suppression Lists.
More Actions
Use this drop-down list to edit a selected suppression list and delete several suppression lists at once.
Suppression Lists table
Displays information about all your suppression lists, including name, ID, the number of email addresses, and the date the list was created. Point at the list name to perform various actions, such as edit, delete, manage, download, and add and remove email addresses.

Expand
Hides the pie chart and expands the Lists table.

NOTE

If the Pie Chart is hidden, this option changes to Collapse. To show the pie chart again, click Collapse.
See Also