Toolbar Commands
The Toolbar appears at the upper right corner of the Aurea Campaign Manager page as shown in the following illustration.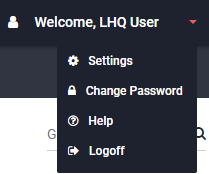 Settings - Opens the Settings Tools page, which shows your profile information, organizations, and allows you find users and search organizations. Administrators can also add users, change their profile information, and grant access to applications within

Aurea Campaign Manager

.
Change Password - Sends a link to your registered email ID to confirm your identify and then, allows you to change your password.
Help - Opens the Help page, which provides you access to the following resources:
Getting Started tutorials
Online Help
Support
Services

Aurea Campaign Manager

Articles
Logoff - Logs you out of

Aurea Campaign Manager

.