Navigation Bar
The Navigation bar on the left side of the Aurea Campaign Manager screen provides access to all Aurea Campaign Manager features.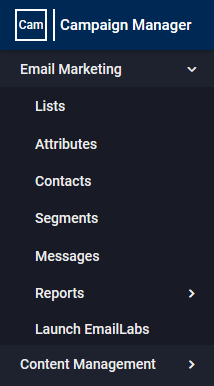 Email Marketing activities - When you open

Aurea Campaign Manager

, the navigation bar shows all Email Marketing activities.
Additional features - To access an activity in a feature, click the feature name to see all available activities, then click the desired activity. For example, to open Lists, click Email Marketing > Lists as shown in the following illustration.