URL for a marketing response
When configuring the marketing activity messages in Aurea CRM, an Aurea Campaign Manager's administrator can set up the messages to display links for each response type that the recipients can click to record their response.
For further information refer to the Aurea CRM Web Business Logic FS guide.
To illustrate this feature we can assume, for example, an "invitation" type of marketing activity, where the expected response from the recipient could be:
Accept the invitation
Reject the invitation
Call to confirm
For each type of response, the marketing activity could be configured with a URLUniform Resource Locator. An Internet address, as well as a standard method of naming files on the Web. A URL begins with a protocol name (such as http), followed by a colon and two forward slashes(//). Next comes the name of the internet server that the file is stored on, followed by directories that hold the file, separated by forward slashes(/). The filename comes last, as shown in the following example: http://www.mycompany.com/whatsnew.htm that corresponds to a link that will be presented to the recipients of the invitation email message.
IMPORTANT
The corresponding email marketing message in the Aurea Campaign Manager needs to be edited to include the response links. Their URLs should match the values set in Aurea CRM.
Use the Campaign Designer in Aurea CRM to configure the URL responses.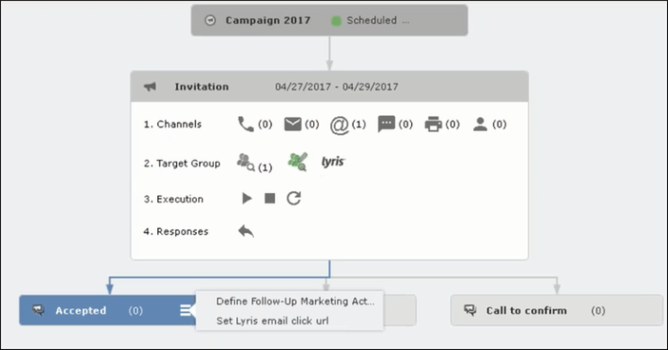 Aurea CRM marketing activity email messages generated by the Aurea Campaign Manager can contain response URL links to capture the response from the target group members. When a recipient clicks on a URL, Aurea Campaign Manager generates an Email click event.
On receiving the email click event, Aurea CRM records the response in the Mailings info area record of the target group member, for each marketing activity. The response recorded in the Mailing record for the marketing activity is based on the URL received in the URL click event.
The response URL found in the response event data should match exactly the value set in the URL response. If there is no match, the response is ignored.
NOTE
For information about purchasing Aurea CRM, contact your account executive.
If you do not know who your account executive is, or for other queries contact us through our website.